This post was inspired by the lovely
Victoria
, who recently kindly gave my blog a mention in her
'What I am currently loving'
post - so thank you, Victoria! I've been loving lots of things lately so I thought I would do a little post.
♥
The Primrose Bakery
- it was my boyfriend's birthday yesterday and we popped into the one in Covent Garden for tea and a cupcake. Ben, typically, got a chocolate cupcake and I went for a rose one - which was so yummy. I would definitely recommend a visit if you're ever in London. I have the Primrose Bakery book, which I have tried a few recipes from - now I am desperate to try the rose cupcakes, as mine was so lovely!
♥
Illamasqua speckled nail polishes
- my boyfriend got me the
lilac
one and now I'm after the whole collection! Who doesn't want mini egg nails?!
♥
Saving
- bit of a funny one, as I
love
shopping and spending money in general. Although I have made a few little purchases this month, and treated Ben on his birthday, I have been a lot more sensible and not as quick to spend money as I usually am. It feels good! I just hope I can keep up Frugal February for the rest of the month.
♥
Crafting/DIY-ing
- always a love of mine, but I have done a fair bit lately - namely some floral bunting [which I am yet to finish], jewellery making and a little DIY which has been on my list to do for a little while - post soon!
♥
Baby clothes
- every time I pass by a baby/kids clothes shop I
have
to stop and take a look. My nephew isn't due until May but I've already bought him a couple of onesies, and I'm finding it hard to stop there! Spoilt little munchkin.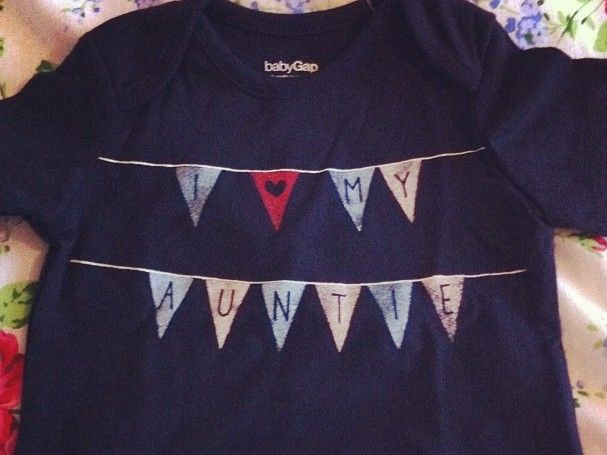 ♥
This quote
which I found on Pinterest. I think it's perfect for my boyfriend as he is so fussy and he always says I should feel privileged as he is with me, ha ha.
♥
The Walking Dead
- I love this show and I'm so glad it's back on! I have a few US shows I watch each week - is it sad that I get excited at work, knowing I have something good to watch at home in the evening!? It's the little things.
♥
Summer holiday planning
- we've booked to go to Malta and I am super excited - especially as we are planning to do the dolphin swim whilst we are there! We almost did one when
we went to Portugal
in 2011, but couldn't afford it. So I think it's a must this time!
♥
Blogs
- I couldn't end this without mentioning a few of my favourites!
Lily Loves Lola
,
A Rosie Outlook
,
Sail boat
,
A Million Dresses
,
Sweet Monday
,
Cold Knees
and
Little Winter
- these are just a few of the blogs I've been loving for a while now. I'm always on the lookout for new blogs to follow so please feel free to recommend your favourites!
Hope you all have a beaut weekend. x