I'm probably a bit behind on the whole ombré 'trend' but hey, I thought I would show you my DIY ombré tee. This was very cheap, quick and easy to make.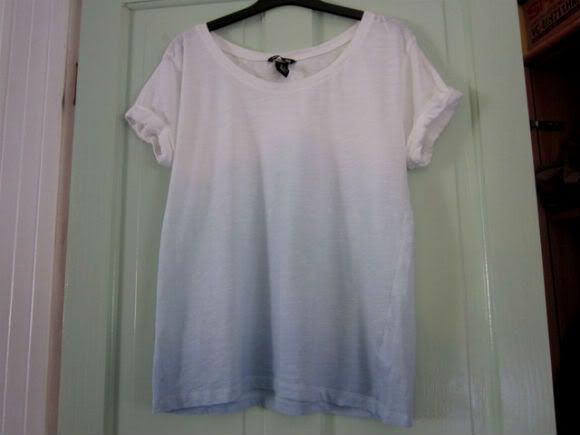 All you need is...
A white t-shirt. I got mine from h&m.
Fabric hand dye. I used Dylon China Blue.
Salt
A small jug
A bucket
Warm water
1. Dissolve about a third of the packet of dye in about 300ml of warm water in your jug.
2. Fill your bucket with warm water. I put about 4 litres in mine. Stir in 2 tablespoons of salt and add the dye. Stir well.
3. Soak your t-shirt with warm water and ring it out. Submerge your t-shirt into the dye, up to as high as you desire the colour to go. Lift your t-shirt out almost immedietly. This has created the lightest colour of the gradient.
4. For your middle medium shade, dip the shirt back into the dye - this time leaving it a little longer. I left mine around 20-30 seconds. Make sure you swirl the shirt around a bit, so you end up with a smooth gradient. Lift the t-shirt out when you're happy with the colour.
5. For the final part of the gradient, add some more dye to the water. A couple more tablespoons should do it. Dip the bottom part of your t-shirt in, swirl it around for a minute or so - again, take the t-shirt out when you're happy with the colour.
6. Leave the t-shirt over night to let the colour set in. I put it over a bin liner on a clothes horse. When dry, wash well with warm water and laundry liquid.
And there you have it. So easy, and much cheaper than the ones you can buy on the highstreet! Under a tenner - can't go wrong! I really want to make one in mint green. Must find some mint green dye...