I hadn't done any proper baking for a while, and cherry bakewell cupcakes have been on my [ever growing] 'to bake' list for quite some time. If you like cherry bakewells and like cupcakes [I'm sorry, but who doesn't?] then you'll love these. To be fair, I mainly made these for my boyfriend as he loves cherry bakewells, but I did enjoy a couple myself!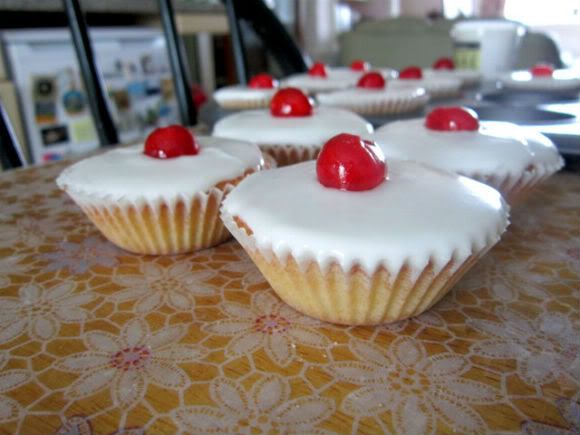 Ingredients

For the cupcakes
150g margarine
150g caster sugar
100g self-raising flour
3 free-range eggs
1 tsp baking powder
60g ground almonds
1 tbsp milk
90g raspberry jam

For the icing
250g icing sugar
3 tbsp fresh lemon juice
12 glacé cherries
Preheat the oven to 180C/350F/Gas 4. Line a muffin tin with 12 cupcake cases.
For the cupcakes, cream the margarine in a bowl until light and fluffy. Add the rest of the ingredients, minus the jam, and stir until combined.
Spoon the mixture into the cases and bake for 15-20 minutes, or until risen and golden brown. Leave to cool for 10 minutes.
For the icing, mix the icing sugar and lemon juice together in a bowl until smooth.
Use an apple corer [or, if you don't have one, a knife will do] to make a hole in the middle of each cupcake. Carefully spoon jam into each hole.
Spoon the icing onto each cupcake, and top with a cherry!