I don't know about you, but I'm not much of a fan of the sales. I don't see the appeal in rummaging through racks of jumbled up clothes and getting pushed about by rude, ignorant people. There's only one solution - online shopping! And I didn't even have to leave my bed.
Excuse the shoddy photos - lighting was awful when I took these.
This is the one item I did find on a quick hunt in the shops. I wanted this when it was full price, but £35 seemed a bit too much. I didn't think I was going to find it but when I spotted this [the last one] I prayed it would be a 10. I was disappointed to find it was a size 6, but tried it on anyway - desperation and all that - only to find it fit me! I think it's meant to be oversized, but I still don't understand sizing sometimes. Ah well, I'm happy I found it!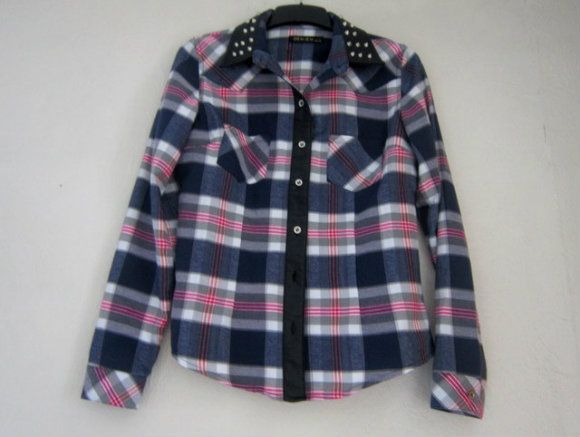 I bought this
shirt
off boohoo. Not a major bargain, with only £5 off the original price, but I don't think it was too bad for £15. I love the PU studded collar! I also bought a black pinafore dress off the website. I had been after one for a while and found
this one
for £15 which I thought was a total bargain. I'm not sure whether it's a bit 'young' for me, at 27 years of age, but oh well. I think it's cute!
This is the first thing I've bought my nephew, due in May :) My brother and sister-in-law revealed the sex of their baby to us on Boxing Day. I had predicted a boy since they announced they were expecting. It's so exciting and I'm loving looking at cute baby boy stuff! I love
David and Goliath's
baby clothes. There's another onesie which says 'I only cry when ugly people hold me' hahaha. I got this when it was in the sale, it was around £8 which is still quite a lot for a baby onesie, but my nephew is definitely worth it!
I have bought a couple of full-priced items recently too, and I'm still on the look out for some good sale deals online - anyone found any good things?! I've got to curb it soon though, as we'll be booking a holiday soon and I'm also saving for a
camera!
I guess I'm just splashing out a little whilst I can!
Did you get anything nice in the sales?