I just had to share these gorgeous
pink rose nail art decals
. I originally bought some for the lovely
Fiona
, who then instagrammed them on her nails - when I saw her photo I decided I needed some for myself!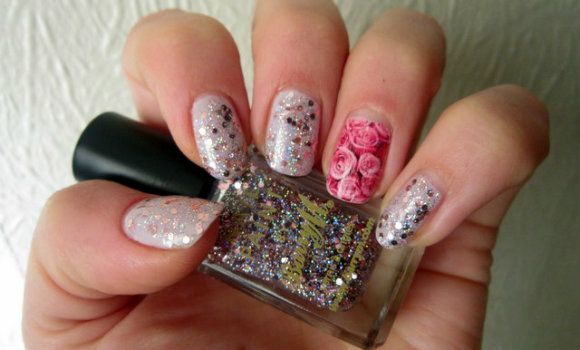 They are so easy to apply. You cut them to size, place in water for around 30 seconds then slip the decal off the paper and apply to the nail. Once dry, apply a top coat.
I only tried it out on my 'ring finger', but if I'd have had more time I would have done the whole lot! I painted the rest of my nails with my new
barry m
glitter nail polish in Rose Quartz, which I layered over
Models Own
Utopia [favourite!].
I hope everyone is having a lovely weekend. Ben and I attempted some Christmas shopping yesterday. I say
attempted
- we only managed to get a couple of gifts. I got a few bits and bobs from Primark [hello cat onesie, you are amazing] and some goodies from Lush. Hoping to go out today and actually do some proper present shopping! That's if I succeed in dragging Ben out of bed. Happy Sunday :)