Another DIY post! This DIY is all about shrink art...or shrink plastic, shrinkies, shrinkles - whatever you like to call it! If you've never heard of it, it's basically a plastic sheet which you draw/print on, cut out and pop in the oven - it then shrinks to 7 times smaller and 7 times thicker than its original size. I've made a lot of jewellery with it in the past, but had never used it to make what I am showing you now. Which is, as the title suggests, a ring!
Here
is the tutorial which I [mostly] followed. Instead of the stamping method I used sharpies to draw a leopard print design on my strip of plastic.
After 'baking' the plastic, I used my wooden ring mandrel, which I use to make my fine silver rings, for forming the ring. It was a bit tricky - you have to be very quick, as it doesn't take long for the plastic to go hard. But it's great because if it goes a bit wrong you can just put it back in the oven and try again!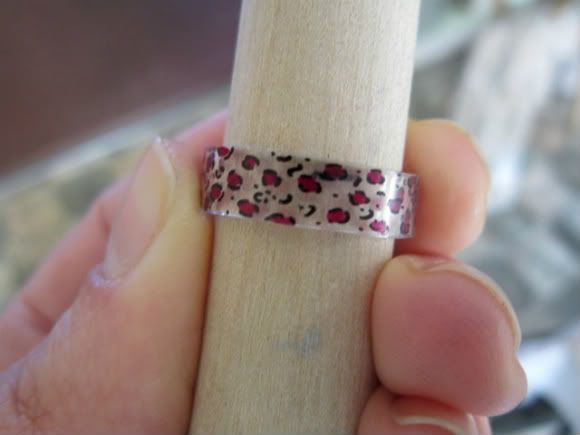 If you wanted to have a play with shrink art, I recommend getting your sheets from
ebay
. You can also find it in Hobbycraft. I got my sharpies cheap off ebay too. I think my love of shrink art jewellery has returned, I'm going to be making more of these rings now! I'm also thinking maybe matching earrings? :)