Ever since having afternoon tea round my brother's the other weekend, I had been keen to make scones. Having never made them before I was after a simple, straight-forward recipe. That's where
Pinterest
came in handy! I found
this
recipe, which I altered slightly as I didn't have plain flour, just self-raising - so I scrapped the baking powder. This recipe gave me a good excuse to use my new
measuring cups
!
Ingredients
2 cups sifted self-raising flour
1/2 tsp salt
2 tbsp margarine
3/4 cup milk

Method
1. Mix the flour and salt together.
2. Add the margarine and milk.
3. Put the dough onto a floured surface and knead until smooth.
4. Pat dough flat and cut into 6 rounds...I actually used a butterfly shaped cutter - who says scones
have
to be round?
5. Place the scones on your prepared baking tray and sprinkle with a little flour. Bake in the oven at 240°C until golden brown. Mine took around 20 minutes.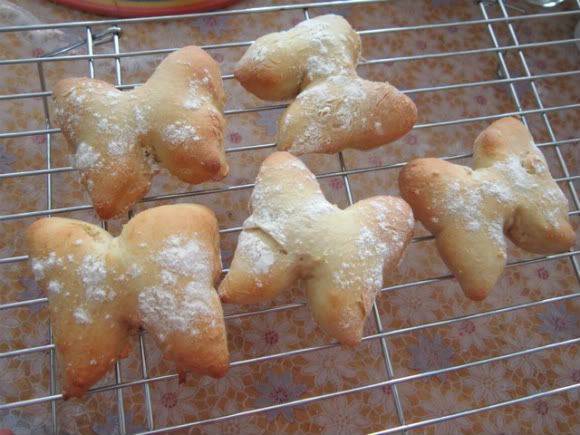 6. Transfer to wire rack to cool. Enjoy with cream and jam! Or try chocolate philly on them, like I did...
I think next time I will adapt this recipe to make some savoury cheese scones. I LOVE cheese scones!