One of my favourite things to do on my afternoons off work is bake. Usually I'm well prepared - choosing what I'm going to bake days before, then gathering the ingredients together at the weekend. However this week I was a little unorganized, yet I still felt the need to bake! Something I did have all the ingredients for was flapjack - I wondered whether to make apple & cinnamon flapjack, but I've made those before so decided to make banana ones!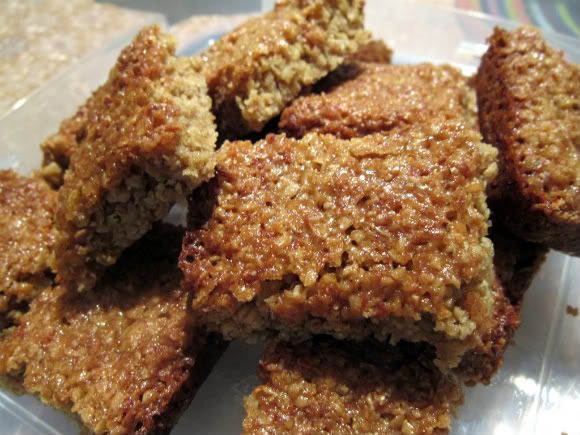 I must say they are so yummy! Especially warm out of the oven! I added a teaspoon of cinnamon too, as I love the stuff. Mmmm delish.
Ingredients
200g butter
160g soft brown sugar
3 1/2 tablespoons golden syrup
450g rolled oats
1 banana
1 teaspoon ground cinnamon [optional]

Method
Grease and line a shallow baking tin with baking paper.
Melt the butter, sugar and golden syrup together in a saucepan on a medium heat. Mash the banana and add to the mixture. If you're using cinnamon stir it in also.
Add the oats and mix well, making sure they're well covered by the mixture.
Bake in a 180 C/Gas 4 oven for 25 minutes, or until the top is brown. Leave to cool [but not before trying a piece warm..!] and cut into squares.
Next time I'll try to be more organized and a little more adventurous... but these were lovely and I'll definitely be making them again.