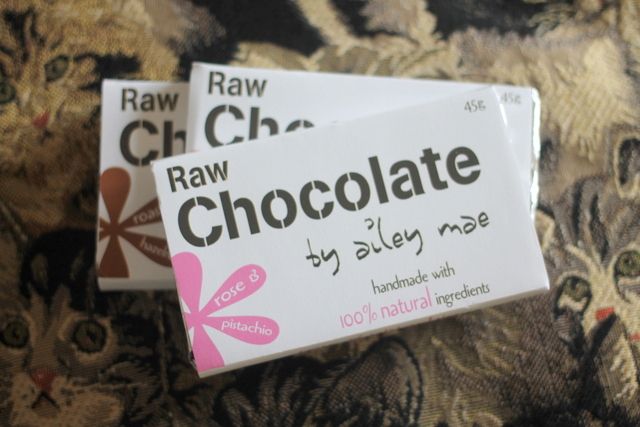 I felt the need to blog about this chocolate. I first discovered
Ailey Mae's
shop last year when
Victoria
mentioned her lovely handmade chocolate in a blog post. I think I went and bought a couple of bars immediately, and I don't think they lasted very long!
I paid another visit to Ailey Mae's shop the other week, to discover she didn't have any of my favourite 'cashew blonde' listed. I sent Ailey a message, and she kindly offered to make me some. I bought a
bundle of 5
bars, which cost me £16.00 (£3.00 postage). Individual bars are £3.50, which might seem quite dear compared to regular chocolate - but Ailey's chocolate is handmade with love, and it's actually
good
for you!
Ailey says:
Handcrafted using the finest quality natural ingredients.
Kept raw to retain the superfood benefits of cacao and with an exquisite rich taste.

Sugar, gluten and dairy free.

Cacao in its raw state is considered a superfood – it contains over 300 nutritional compounds, it is one of the richest sources of antioxidants and is full of essential minerals – especially rich in iron,
zinc and magnesium.
It even contains the natural "love" molecule PEA.

Because my chocolate isn't cooked it retains all of these nutritional benefits.

Not only is it amazingly delicious, it is actually good for you!
As well as two bars of cashew blonde, I also went for orange & brazil nut, rose & pistachio and roasted hazelnut. One bar of cashew blonde has gone, and I've made a start on the orange & brazil nut. AMAZING chocolate - so creamy, and it feels like such a treat but it also feels good knowing it's so good for you, too! Ailey also added an extra of a
peanut butter truffle
to my order, which seemed to disappear quite quickly! Yum. I want some of those next.