Let's just take a moment to appreaciate this. Creme eggs. In brownies.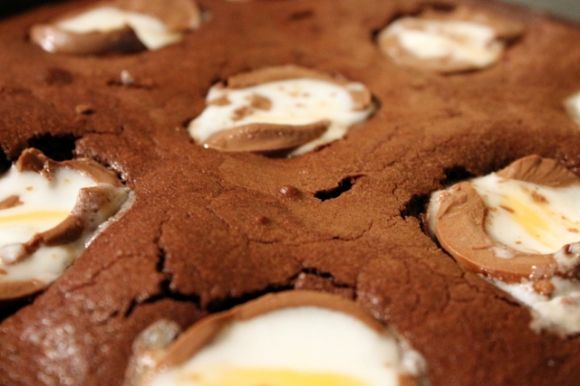 Ingredients
185g unsalted butter
185g dark chocolate
85g plain flour
40g cocoa powder
3 large eggs
275g golden caster sugar
6 Cadbury's creme eggs cut in half.
Method
Preheat the oven to 160C and grease a 20cm square baking tin.
Melt the butter and dark chocolate together over a bowl of hot water.
Break 3 large eggs into a large bowl and add in the golden caster sugar. Whisk the eggs and sugar until the mixture becomes thick and creamy.
Pour the cooled chocolate mixture over the eggy one, and then gently fold together.
Sieve the cocoa and flour into the eggy chocolate mixture and gently fold in.
Pour into the tin and bake for 15 minutes then take out of the oven and gently press the creme egg halves into the mix, spacing them apart evenly. Put back in the oven for another 5-10 minutes.
Leave to cool before cutting into squares.
Yes, it was entirely neccessary to have this many photos of such gooey goodness.