I've been after a pair of metal collar tips for a while - most of the nicer ones I've found on ebay I thought were a tad expensive for what they are, and reckoned I could make them myself. That's when I stumbled across a
tutorial.
I changed the tutorial slightly, to suit the materials I had - but here goes.
You will need
Book corner protectors
Ear posts
Strong super glue
A hammer
Scraps of fabric

What to do
First of all, get your corner protector and ear post and super glue the ear post to the back of the protector. When completely dry, put the corner protector between two pieces of fabric and gently tap the hammer, flattening the edges inwards.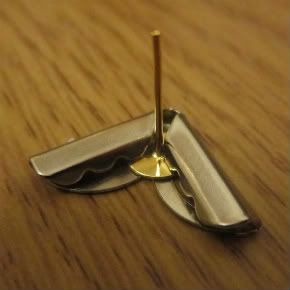 Attach your new collar tips to any shirt you fancy! Simples.