I got a tax rebate [woohoo], most of it has been put into savings but I have spent a bit of it...why not..
First I had a splurge on the Topshop website. My order came today.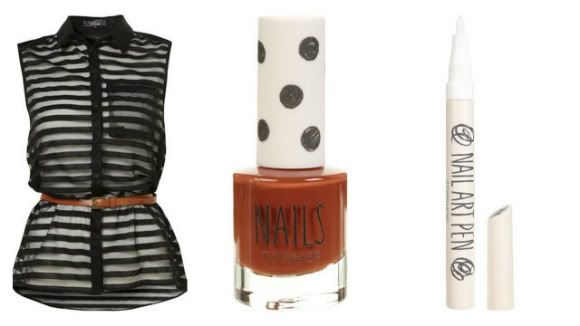 Sheer stripe shirt
, nail polish in
Butterscotch Babe
and nail art pen in
Frozen
.
I don't own many sheer things, and have always lusted over these kinda shirts. So when I saw this in the sale I grabbed it. Love the fact it comes with a belt - bonus! Never tried Topshop nail polish before so looking forward to giving this gorgeous shade a go, and after seeing
Gem's
post on the new Topshop nail art pens, I decided I had to try one out for myself! I've had a go with it and am quite impressed so far.
And I've also bought a couple of lovely chunky rings.
The arty imitation ring is from
dixi
, I really like the colour of the stone and think it makes the ring a bit different to some of the ones you see around. The leopard ring was an
ebay
find, I won it for about £2!
Now I must try to save my money..well, on clothes etc, that is. I still need to buy a present for my boyfriend's parents, and I have a couple of Christmas events coming up - starting with my work's do tomorrow night. Looking forward to it! Have a lovely weekend everyone. x
[edit] Just a reminder that the 20% discount code for my
shop
ends midnight tonight [Saturday 10th]. Just enter MISTLETOE at check out. All my jewellery comes wrapped up like a gift, so it's perfect if you're getting a present for someone! Free shipping still going :) [/edit]