My first Christmassy nails of the year!
Barry M
Racing Green with a coat of Nubar 2010 over the top. I painted the snowflakes on my ring finger using my new
nail art pen
from Topshop.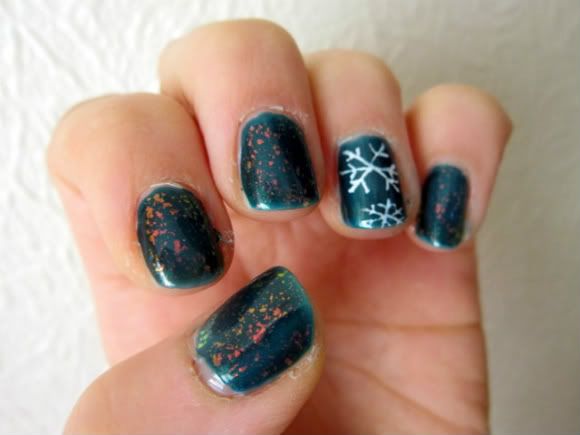 Hope everyone has had a good weekend? I spent this morning recovering from last night - it was my work christmas do, had such a good time! We went to a lovely Italian. I had a starter as a main because all the main meals were full of fish/meat - they gave me sooo much pasta, I could not eat it all! I somehow managed some tiramisu for pudding though, which was heavenly. Karaoke after, followed by lots of shots and drinking games...we will have lots to talk about at work tomorrow, that's for sure.
Had a yummy Harvester for lunch with my boyfriend today, and bought a gorgeous dress from h&m which I
tweeted
a photo of. I might wear it on Christmas Eve, I'll obviously replace the trousers with tights and wear a belt to nip it in a bit at the waist. And after trying my local starbucks for a half price tumbler with no luck, my Mum messaged me to say she'd
got me one
! Best Mum ever! .
Right I'm off to watch Elf! Hope you all have a lovely evening. Mine will be spent watching X Factor and Misfits. Who does everyone wants to win? I absolutely love Marcus, but have a feeling it'll be Little Mix. Although that could be a good thing, as it's usually the runner-ups who do better isn't it?!