Tried something a bit different this weekend. Trying to break free of my leopard print/spots/konad nail painting habits.
All nail polishes are
Models Own
[as usual, it seems!] - I started by painting my nails with Sophie's Pink, then added the green edges using Jade Stone. I have some of those sticky tip guide thingies, but I went free-handed as I always seem to mess up my nails when I use them! I finished with a thin strip of Emerald City, which I applied using a cocktail stick.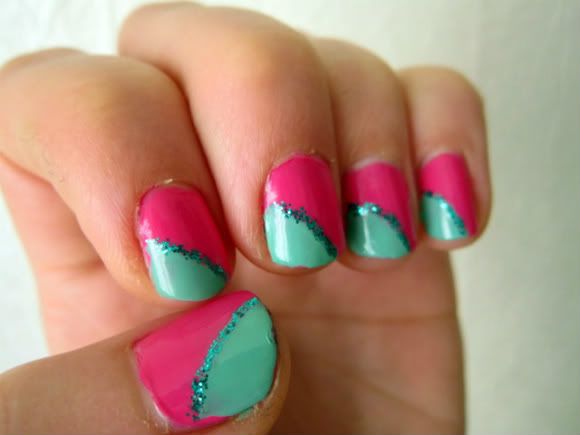 I actually really like them, and don't want to have to take them off later for work tomorrow :( I reckon they'd look really good with some kind of pattern painted on too. I actually got complimented on them by the girl who served me in BHS today. She asked where I got my nails from, I told her I actually did them myself and she said she really liked them. Aw :)
Hope everyone's enjoyed their weekend. I've mainly been Christmas shopping! SO nice to know I'm almost done though, and I'll be missing the dreaded rush! Also got my
advent calendar
, any others in their twenties still get them? I hope I'm not the only one.