Otherwise known as millionaires' shortbread.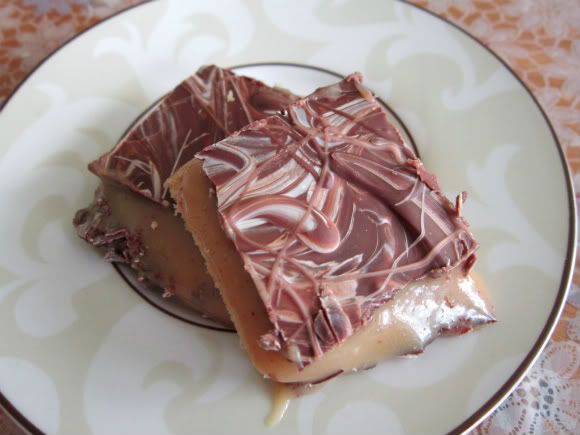 Ingredients

♥ For the base... ♥
50g soft brown sugar
125g butter [softened]
150g self-raising flour

♥ For the caramel topping... ♥
397g can sweetened condensed milk
125g butter [diced]
75g soft light brown sugar
50ml [2tbsp] golden syrup

♥ For the chocolate topping... ♥
75g white chocolate
75g plain chocolate

Method
Preheat the oven to 180 degrees celcius/gas mark 4. Grease and line a 7x11 inch tin with baking paper.
Cream together the butter and sugar until light and fluffy. Add the flour and mix until combined.
Press the mixture over the base of the tin and bake for 15-20 minutes until golden. Leave to cool.
Put the caramel topping ingredients in a saucepan and place over a low heat until dissolbed. Bring to the boil, stirring continuously, for about 10 minutes.
Pour the caramel topping over the base. Leave to cool completely. Melt the chocolate in seperate bowls over a pan of simmering water. Pour the chocolate over the caramel and swirl together. Leave to set, then cut into sqaures.
This was the first time I'd made any kind of shortbread, so I was a bit dubious as to how it would turn out - but it was delicious!