I made these on my afternoon off on Monday. I'd met my friend for a starbucks date [the best kind of date] and had a bit of spare time when I got back so decided to bake. I hadn't made muffins in
ages
[probably years], so went for these!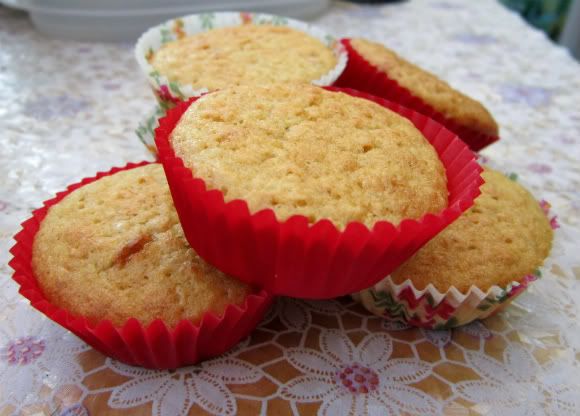 They didn't rise as much as I'd hoped, but they're really yummy - not too sweet either, which makes them perfect for breakfast!
Ingredients
250g plain flour
1tbsp baking powder
100g porridge oats
50g soft light brown sugar
1/2 tsp salt
2 medium eggs
175ml milk
75ml sunflower oil
5 tbsp clear honey

Method
Preheat the oven to 190 degrees celcius/gas mark 5. Line a muffin tin with paper cases - this recipe is meant to make 10, but I ended up with 18! I guess it depends how big you want your muffins.
Sift the flour and baking powder into a bowl, then stir in the oats, sugar and salt.
Put the flour mixture aside and in a large jug, beat together the eggs, milk, oil and honey until thoroughly mixed and frothy.
Pour the wet mixture into the dry mixture and stir until all the ingredients are just combined. You should have a lumpy batter which is quite runny!
Divide the mixture between the muffin cases, they need to be about two thirds full. Cook on the top shelf of the oven for 20-25 minutes. Leave in the tin for a few minutes before transferring to a rack to cool.
I've been enjoying them with yoghurt for my breakfast, mm-mmm :)