If you're a chocolate lover, then you will LOVE this. I'm one of those people who enjoy chocolate, but only eat it when they
fancy
crave it. Therefore I only needed a small slice of this to satisfy my sweet tooth, yet my boyfriend managed a huge hunk of it! It was really yummy though, if I do say so myself.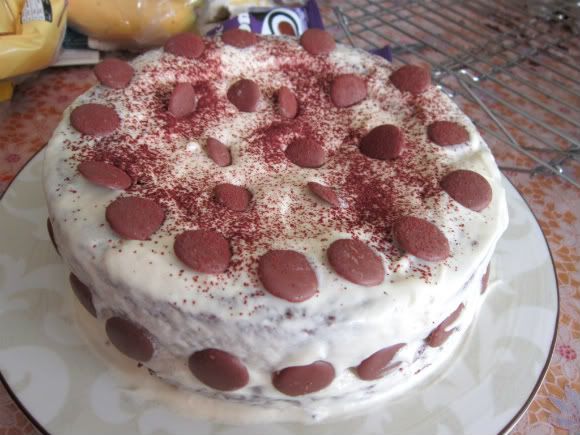 Ingredients

♥ For the cake... ♥
175g butter [softened]
175 soft brown sugar
150g self-raising flour
25g cocoa powder
1 tbsp baking powder
1/2 tsp bicarbonate of soda
3 medium eggs
100ml sour cream

♥ For the icing... ♥
175g white chocolate
125g butter
4 tbsp milk
200g icing sugar
To decorate: Grated chocolate, chocolate buttons, cocoa powder...whatever you fancy!
Method
Preheat the oven to 170 degrees celcius/gas mark 3. Grease and line two 8" cake tins with baking paper.
Put the butter and sugar in a bowl and whisk together until combined. Sift over the flour, cocoa, baking powder and bicarbonate of soda. Add the eggs and sour cream and whisk until combined.
Divide the mixture between the two tins and level the tops. Bake for 25-30 minutes, then leave to cool slightly before turning them out onto a cooling rack.
To make the icing, put the chocolate, butter and milk in a heatproof bowl over a sausepan of simmering water. Stir occasionally until the ingredients have melted and you are left with a smooth mixture.
Sift the icing into a bowl, then pour in the melted chocolate mixture. Beat together. Allow the icing to cool, then beat again until it forms soft peaks.
Use a little icing to sandwich the two cakes together, then spread the remaining icing all over the top and sides of the cake. Decorate as desired.
Now, one thing I will say is that the icing was a bit of a disaster! I'm not sure what it was, but it was really runny [despite adding more and more icing sugar!] so I whacked the cake in the fridge, which meant that the icing firmed up a bit and wasn't too messy to eat in the end! It still tasted good :)