I hope everyone is having a good weekend and is making the most of this lovely weather!
I had a little shopping spree yesterday. I'm technically not allowed to buy any clothes [a ban I put on myself], but I had birthday vouchers and it would have been rude not to take advantage...plus it's technically not
my
money! ;)
Still no camera, but I used my Mum's to take photos of what I got. Her camera isn't great to be honest - that's where
picasa
comes in handy!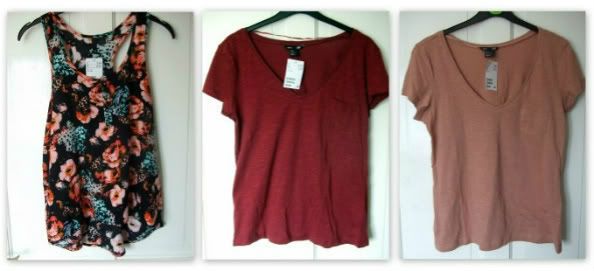 Using my h&m voucher I got from the girls at work, I bought this lovely vibrant floral vest. I also got a couple of their basic jersey tees, which I really like. I had to get a size medium in the burgandy one as there were no size smalls left. But I kinda like it a bit baggy!
After my splurge in h&m I spent my remaining £20 Debenhams voucher. Now we have a Topshop in our town centre, the one in Debenhams is closing down. So I thought I better take advantage of the sale items quickly! I ended up getting a top I had seen a while ago...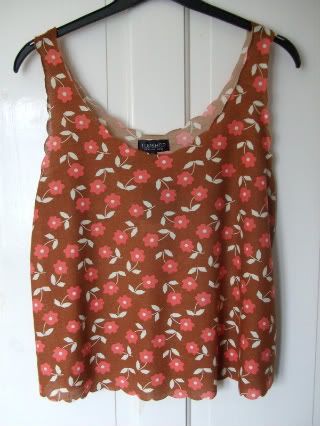 This was £10, reduced from £16. I LOVE the print, it's so pretty and reminds me of something you'd have seen in the sixties!
As I had a tenner left I got a few pairs of knickers, using their 3 for £10 deal...but I'm sure you don't need to see those, as pretty as they are!
All in all a successful shopping trip :)