Look at that little fella on my 'ring finger' - isn't he sweet?! When I saw
this little tutorial
via
Pinterest
, I just had to give it a whirl myself. I'm not totally obsessed with owls, like a lot of people seem to be, but this
is
cute! The tutorial uses the same sort of method I used with my
peter pan collar nails
, it's so easy to do.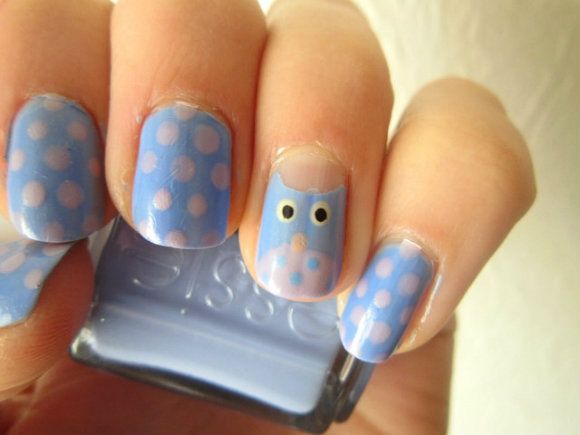 I used
essie
bikini so teeny and
Models Own
Utopia, Lemon Meringue, Peach Sherbet & Black Magic.
For the rest of the nails I applied bikini so teeny and spots using Utopia.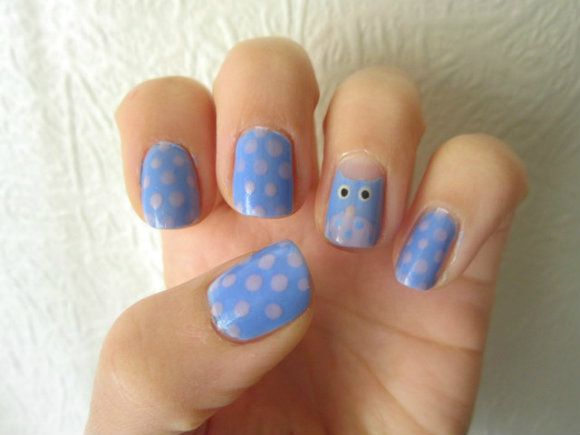 Essie Bikini so Teeny is one of my most recent purchases, and I absolutely love it. To start with, it's a beautiful colour - but also, the brush makes it so easy to apply. I've got a couple of other essie polishes, but they have thinner brushes. I bought bikini so teeny in Boots, whereas my others have been purchased online, so perhaps that has something to do with it. Unfortunately my local Boots don't stock essie [yet!?] so I had to go elsewhere to get this one. Hoping my local will start stocking them soon!
Hope you're all having a lovely weekend. What have you been up to so far? Ben and I had a slow, lazy morning [I watched Glee whilst he dozed - the usual occurance!] then went into town. I had a £5 voucher for h&m, so picked up
this gorgeous blouse
and a couple of
thin knitted jumpers
. I think I'm pretty much sorted for the colder months now - I also managed to find a
coat
I liked the other day!
Enough of the chit chat. I'm going to go make a cup of tea and watch my new Hocus Pocus dvd! Off out for a hen do tonight so need to relax as much as possible beforehand...I sure am getting old.