I randomly did this DIY the other night, whilst my boyfriend and I were watching Horrible Bosses [boring film, but Ben seemed to enjoy it and I had to occupy myself somehow!] - should have taken a photo of how they looked before I studded them, but you can probably guess.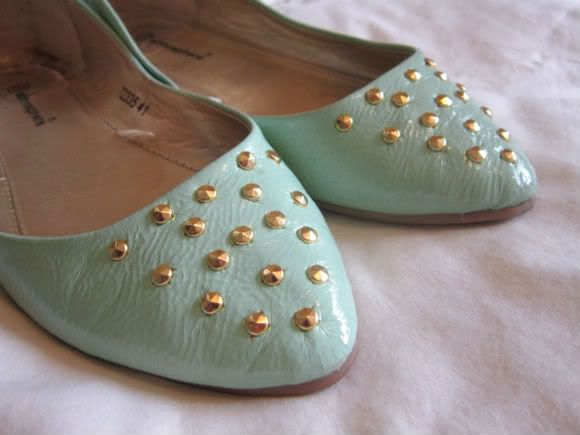 I used gold studs which I bought from
ebay
a while ago, and mint green flats which I got from primark a couple of years ago. I'm absolutely loving mint green and gold [especially rose gold] together at the moment.
I had to use little scissors to poke holes in for the studs to go through, as the material was so thick. I used a knife to push the backs over - if you make these, make sure you have none poking out - you don't want any jabbing you in the toes, ouch!
I'm really pleased with them for a first go! Finding lots of other things to stud now! Will have another DIY up [one of my favourites] later in the week.