The very lovely
Fiona
sent me some goodies this week. A while before Christmas I had commissioned her to make me a headband, however she got a bit busy and didn't get round to it. Obviously I understand completely, but she sent me some things she had made as a little apology - which was so sweet of her!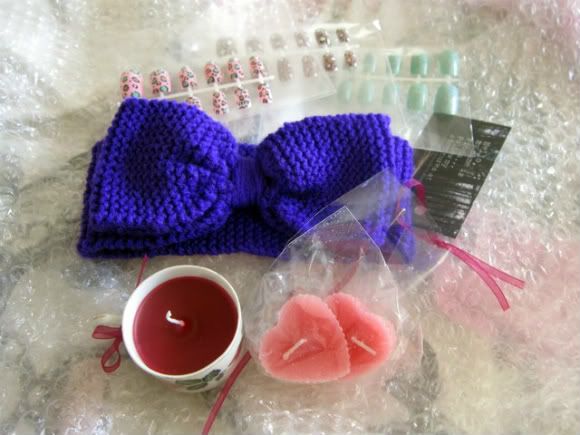 Excuse my make up-less face. I just LOVE this bow headband Fiona sent me. I had commissioned her to make one just like this, but in green, and I reckon I will still be wanting one! It's so comfy - fits perfectly, keeps my ears warm, and I love the colour :)
Another thing Fiona makes is lovely scented candles. She sent me a tiny teacup candles and some heart shaped melts!
And last, but not least, she painted up some false nails! Looking forward to using them!
Once again, thank you so much to Fiona, and if you're into photography, baking and crafts then check out her
blog
- you won't be disappointed!