This recipe came from
Red Velvet Chocolate Heartache
. I've had this book a short while and this was the first recipe I tried from it.
Ingredients
140g banana [roughly 1 large one, peeled]
2 medium eggs
140g golden caster sugar
150g topped, tailed, peeled and finely grated courgette [yes, really]
150g rice flour
2 tsp baking powder
1/4 tsp salt
1 tsp vanilla extract
1 tsp cinnamon
1/2 tsp mixed spice
[The recipe also included 25g finely chopped brazil nuts & 25g finely chopped pecans but I didn't use these]

Method
Preheat oven to 180 degrees c/gas mark 4. Brush the inside of a loaf tin with a little vegetable oil.
Mash the banana thoroughly with a fork.
In a large bowl, whisk the eggs and sugar until pale and light. Whisk in the mashed banana until completely incorporated. Add the grated courgette and beat again. Finally, add the flour, baking powder, salt, vanilla, cinnamon and mixed spice and mix until completely blended. If using nuts, this is when you add them in [leaving a small amount]. Pour the mixture into the tin and sprinkle the remaining nuts over the top. Bake in the centre of the oven for 45 minutes.
Remove from the oven and leave the banana bread to cool in the tin for 10 minutes.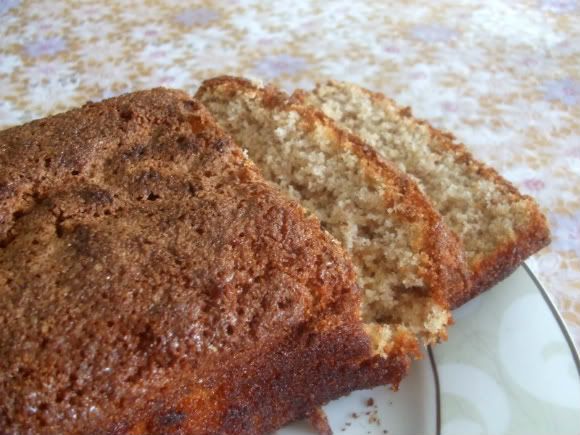 I think if I was to make this again I would use less sugar, as it came out rather sweet. Less sugar and maybe a bit more cinnamon, as I love the stuff! Oh, and for the record, you
cannot
taste the courgette at all. This is coming from someone who doesn't even like courgette :)